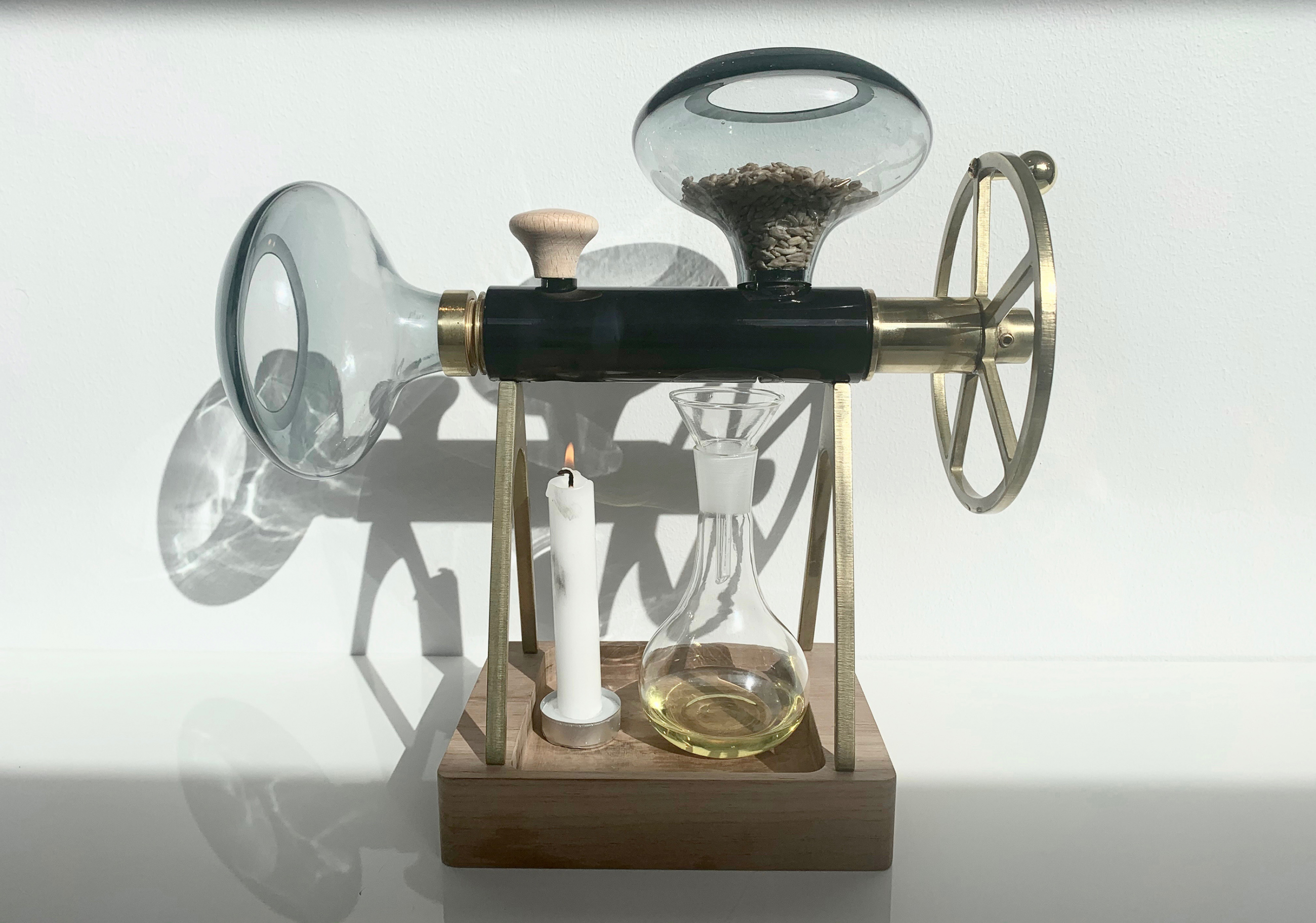 Gut Feeling
Gut Feeling is an investigation of the contemporary single eater's experience of food. Based on research and interviews, the thesis identified problems and dissatisfaction faced by them at various levels of interaction with food. Ideas were approached and analyzed using the framework of the emotional design theory. A range of design responses were created to explore solutions that directed towards the focus. An emphasis was made on the growing consumption of industrially processed food, often a convenient option for single eaters in the market. It was viewed as a replacement for home-cooked food and a threat to human health, development, and consciousness.
The introduction of the process of nut/seed oil extraction at a home scale, with a redesigned manual cold press oil expeller, was created as a tool to empower single eaters to transform their food experiences. The reward of self-producing oil, an essential ingredient for cooking, was imagined as a catalyst to reconcile with nature and our being. The design is in a perpetual state of transformation based on user feedback and is seen as an evolving tool with time.
Sharmeen Attarwala (IN)
Sharmeen Attarwala is an Interior and Product Designer who combines contemporary design with the warmth and poetry of things handmade. She is the Co-founder of Mareen, a cross-cultural art-design collaboration, developing handcrafted interior products that celebrate the spirit of exchange in nature uniting the world together. She has professional experience in interior design and management for various residential projects, as well as exhibits in the Museum für Antike Schifffahrt in Germany. She holds a bachelor's degree in Interior Architecture from the School of Environmental Design and Architecture, Navrachana University, India. Her love for food and unorthodox design thinking methods reflect in her master thesis part of her postgraduate education.